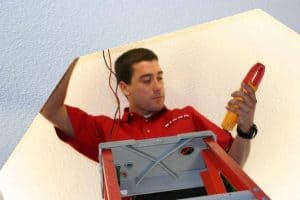 Boynton Beach is located north of Delray Beach in Palm Beach County Florida. It shows off some of the most attractive beaches in Florida complete with water activities and eco-adventures for the whole family.
Electricity in Boynton Beach is similar to anywhere else. Electrical contractors are often called when the need for electrical services arise. Finding the best electrical contractors in Boynton Beach can be tough, but it gets easier when you recognize that not all electricians are created equal. To get the best, you must identify the appropriate features.
Friendly and Courteous
A professional electrical contractor has values such as honesty, courtesy, politeness, and so on. The contractor you choose should be friendly and courteous. They should send drug-free, neat, well dressed, and friendly electricians to your home or site. It's hard to work with someone who is under the influence of drugs, swears, or is rude. It is even harder to pay for such a service. Reach out to a company that has a good reputation.
No Shock Prices
The tasks of an electrical contractor also fall back to the prices. Many electricians do not give a precise estimate before work begins, and this leads to nasty surprises after. Choose a service that can provide a close estimate before work begins and avoid the stress of shock pricing.
License and Insurance
A license proves the contractor knows what he is doing and is also informed of electrical standards. Insurance gives you coverage or protection if anything goes wrong while the electrical contractor works on your service. Both factors are necessary, regardless of how simple or minor the electrical task is. Demand a copy of the electrician's license and proof of insurance before hiring.
Guarantee
Ask plainly if there is a guarantee. A guarantee saves you from wasting funds or having to hire someone else for the same service repeatedly. A good electrical contractor will offer a guarantee on their work and this can serve as an insight into their confidence in their skills.
Range of Services
The difference between a regular electrician and a licensed electrical contractor includes experience and other factors, but more importantly the range of services offered. An electrical contractor in Boynton Beach should be able to provide services such as residential services, light fixtures, electric receptacles, landscape lighting, generator installation, sub-panels, meters, phone and computer wiring, utility construction, interior lighting, and more. Choose someone with a broad range of knowledge and skills.