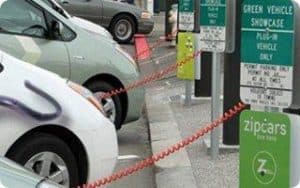 Now is a great time to jump on board the electric car trend. With the new models that are hitting the market, you are sure to find the right car to suit your needs while satisfying your desire for certain extras and luxuries. Electric cars have come a long way in the past five years and are very roomy. No longer are you relegated to the small cars that are simply not suitable for running the kids around or going on family trips. Nowadays, you will find plenty of cars that depend on a battery rather than the gas pump. Once you have picked one, you will want to give your Miami electrician a call. You can count on Elcon Electric to provide you with someone to get the job done for you.
Your new electric car will be equipped with a plug in that will plug into any outlet. However, these are trickle charging stations and can take a day or more to fully charge your car. Few families can actually boast they don't leave the house for 24 hours. Yes, your car will run, using gas, but that defeats the purpose of your electric car. An electrician in Miami can get you set up with a hard-wired charging station that charges your car in about 8 hours. You will need to make the purchase of the fast charger and then call your electrician. Miami homeowners will need to have a dedicated circuit breaker installed on their panel to accommodate the charging station.
You will want to have an inspection of your electric panel to ensure it has room for the new breaker. This is something you can leave to your electrician. Miami residents, if you are ready to take your electric car to the next level, give Elcon Electric a call today and schedule your fast charger installation.