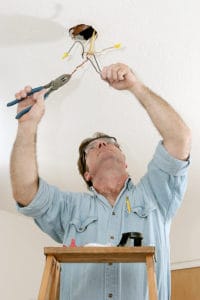 What if you could make one minor change in a room and completely update it without spending a ton of money? Would you do it? It is often around this time of year, people tend to get a little tired of looking at the same four walls. Up north, they call it cabin fever. While the Florida weather is mild, it can still drive you indoors more than you would like. This is why changing up a few things in and around the house can help stave off the boredom. An electrician in Fort Lauderdale has an idea that could help you give your home a face lift. A new light fixture can make all the difference. The team at Elcon Electric is ready to help you update the rooms in your home without going into a complete remodel.
If your home is twenty years old or more, you probably have some light fixtures you are sick of seeing. The standard fixture in the middle of the room with frosted glass is old and boring. It does nothing to really liven up the room and showcase your personality explains an electrician. Fort Lauderdale homeowners can go bold with a decorative chandelier or replace the light with a ceiling fan.
Galley style kitchens were often built with horrible fluorescent lighting running right down the center. It is time for those to go. They are obnoxious and very outdated. You will appreciate the look of track lighting that can fulfill your lighting needs or a few pendant lights. Your Fort Lauderdale electrician is here to help you get rid of those old, outdated fixtures and bring your home into the modern lighting world. Don't forget to get rid of those brown chandeliers in the dining room! Give Elcon Electric a call today and schedule your appointment.