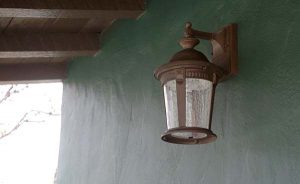 Spring and summer are the time for outdoor barbecues, family gatherings and relaxing under the stars. Spending time outside after the sun goes down is often the only way to comfortably enjoy the fresh air. The stifling heat during the day can be a bit much for some. However, the darkness can be a little dangerous. It also invites some sketchy creatures and bad guys into your domain. Proper lighting around the outside of your home and in areas like your patio, driveway and front entryway are critical to your safety as well as making the home look better overall. An electrician in West Palm Beach can help you update the lighting in your yard. The team at Elcon Electric is ready to help you get your yard ready for this summer's outdoor activities.
There are plenty of different options for your lighting needs. If you have a fence, lanterns mounted to the fence are a beautiful option. This could be a fence around your yard or around your deck. There are various sizes available as well as different styles. The newer models offer LED bulbs, which are far brighter. A West Palm Beach electrician can wire the lights into your home's main wiring system. You can choose to have the lights on a timer or a manual switch.
Other options include pathway lights that are electric instead of solar. While solar are great, they don't have the same advantage of staying on all night or giving you the flexibility of controlling when they come on or shut off. A bright light installed over your driveway and doorway is important for your safety and the safety of guests that may arrive. This will need to be handled by an electrician. West Palm Beach residents can count on Elcon Electric to complete the work in a professional manner.