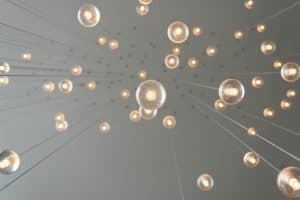 Lights can change the ambiance of a room. They can also influence your productivity and comfort levels. Impeccable lighting in a room is hardly noticed but people will certainly feel how relaxing the well-lit room was.
If you are wondering the best way to light a room, we believe you are looking for impeccable lighting standards that can transform any dreary looking area. Read on as we discuss these best ways.
Light in layers
To some people, lighting a room is all about getting a single fixture to illuminate that entire space. While this works, to get the best-lit room, you must have multiple points of lights. The trick is to apply lighting in layers but ensure they blend well together.
Task lighting
A brilliantly lit room also involves taking all the factors under consideration. You have to think beyond the overall brightness and also consider areas that need focused lights for a task. For example, a reading desk or kitchen counter. Add task lighting to get the best results.
Control your lighting with dimmers
Dimmers help to regulate the light intensity of a room for the ultimate ambience. It puts you in control and helps to switch the mood of a room. Incorporate dimmer switches wherever possible.
Eye-catching ceiling lights
This is a must-do. Start off your great lighting game with eye-catching, bright ceiling lights. Bold ceiling lights can make a room look bigger and brighter. Remember to add other lights for a complete effect.
Treat lighting like furniture
When you purchase room furniture, you think mainly of form and function. The same can apply to room lights. Choose different material finishes such as glass, wood, metal, or concrete. Make sure the lights are the right type for each room. For example, the living room can have a chandelier, floor lamps, or table lamps. Whatever the function, be sure to blend them in creatively with your room aesthetics.
Know your bulbs
The lighting industry has come a long way, and most people are all about LED bulbs now. As professional electricians, we equally advise that you invest more in LED bulbs. They are brighter, available in varieties, safer, and power saving.
Colors
Don't wince at the thought of colored bulbs in the home. Color helps to improve lighting and support their function. White and blue lights increase alertness and productivity. Warmer colors like yellow are best for relaxing, reading, or watching TV.
If you need more direction on how to light a room, you can reach out to us. Our professional electrical technicians are always available for consultation, installation, or lighting repair services.