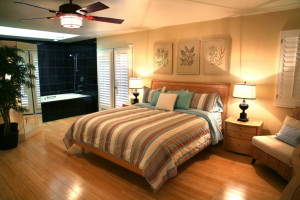 Your bedroom is your safe haven. It is where you sleep, but it is also somewhere you retreat to when you want to feel safe and secure. When you are not feeling well, snuggling under the covers is a nice way to recover. Maybe you enjoy reading and would like to do that in a quiet, comfortable place, like your bedroom. It is time to renovate your room and make it a little more comfortable for you and more inviting. It doesn't have to be just the place you sleep. Make it your retreat with the help of an electrician in Fort Lauderdale. The experienced team at Elcon Electric can help you with your bedroom remodel.
If you are expanding your room or even adding a new room, you will want to consult with an electrician first. It is important you find out where the wiring is and what needs to be done to move it. It is also a great time to talk about adding additional outlets or moving an outlet higher up the wall to accommodate hanging a flat screen without messy cords hanging below. These are all things your Fort Lauderdale electrician can make happen for you. Extra outlets can be installed to accommodate your various chargers and docking stations.
Renovating your home to suit your personality and your needs is part of the joys of owning your own home. You don't have to compromise and accept the original construction. There are ways to make it a little more yours. Changing the lighting or adding a ceiling fan to the bedroom are quick, simple and very inexpensive options you can have completed by an electrician. Fort Lauderdale homeowners can make their retreat a little more comfortable by adding paint and changing the lights. Give Elcon Electric a call today whether your project is big or small.