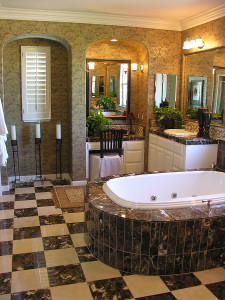 One of the biggest wishes for any homeowners is the addition of a bathroom. If you have a family, you are probably aware of the bottleneck one or two bathrooms in the house can present. Having an extra bathroom for guests to use is something many people prefer as well. It helps the homeowner maintain their privacy. It tends to be easier to keep clean as well, which is a huge bonus. If you are planning to add another bathroom or remodel an existing bathroom this year, you will need the services of a West Palm Beach electrician. At Elcon Electric, you will find a staff willing to help you achieve your remodel dreams.
Adding an additional bathroom to a home is a big project. It generally means you are going to be losing a bedroom or closet area, which means you are going to run into electrical wiring. If the closet doesn't have a light or you have to move walls, you will need an electrician. West Palm Beach homeowners will need new wiring installed to the bathroom. This may also require a new breaker. The best way to get an idea of total cost for the addition of a bathroom is to meet with an electrician. The electrician in West Palm Beach will need to determine the current state of the electrical panel, the existing wiring in the area you are renovating and whether or not an additional breaker will be needed.
Remodeling a bathroom doesn't require nearly as much pre-planning with your electrician. However, if your bathroom is outdated, you may want additional outlets installed. Nowadays, GFCI outlets are a standard in the bathroom area. That is a fairly simple fix that can be taken care of. Give Elcon Electric a call today and get started on your bathroom addition project.