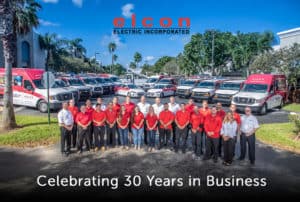 Since 1989, Elcon Electric has provided the best quality electrical services to homeowners and businesses throughout the Southeast Florida area, Treasure Coast, and Space Coast. It gladdens our hearts to have maintained our standard of service all this time. Elcon Electric is celebrating its 30th year in business and in many ways, it is all thanks to the unwavering trust our past and existing customers have placed in us.
Elcon Electric was founded by James McConchie with the aim to provide professional electrical services to thousands and thousands of people in South Florida or nearby communities. We have built a proficient team and acquired essential and sophisticated equipment to serve with a difference. As we celebrate, we encourage you to know us even more and if you have never made it to our list of lifetime customers, here are the only reasons you should.
The Elcon Electric Team
Electrical service is sometimes only as good as the electrical technician you hire. For both homes and businesses, electricity is a must-have and the electrical system you install must guarantee reliability and safety. To do this, you need expert electricians; people who are qualified, certified and licensed. You need professionals who do not cut corners with your job and who prioritize quality service with customer satisfaction.
Finding such electricians can be tough in this saturated market, but Elcon Electric made a commitment to make this possible. Hence, our team consists of knowledgeable electricians who take great pride in doing their jobs and doing it right. They are dependable and show up on time every time to scheduled and unscheduled services. Our team of licensed electrical pros are friendly with respect for you and your business or living space. We do not leave a mess behind.
We are experienced in a wide range of electrical services, both simple and complex, troubleshooting, replacement, and repairs. We offer consultation and encourage open but professional interaction between our customers and our electricians. We are here to answer your questions using our rich resources in the electrical industry.
Our Range of Services
Elcon Electric is one of the top electrical companies in the industry with popularity in South Florida and its environs. As a fully equipped and staffed organization, we offer a wide range of electrical services to our esteemed customers. Regardless of if you need a residential or commercial service, Elcon Electric has proven time and time again for 30 years that we are dependable. There is hardly an electrical service we cannot handle. We get the necessary permits and follow the appropriate procedures to provide customized services based on your needs. We know the significant difference between residential and commercial electrical systems.
The scope of our service usually includes:
Electrical Repair
Repairing a faulty electrical system or component is not the first choice in many cases and as experienced electricians with a great reputation, we are transparent with our clients. We will inform you if a repair is what you need to enjoy a safe electrical system. We get it right the first time, leaving no more issues behind.
Electrical Replacement
When repair is not an option, replacing the faulty electrical component is the best choice. As expert electricians, we carry out replacement services with the best tools and methods. We will advise you on the materials or parts needed and the most suitable options for you. Our aim is to give quality that serves you as long as it should.
Electrical Installation
Installation services in both residential and commercial settings require an experienced and licensed electrician to guarantee a complete installation following the standard electrical codes. Our electricians stay updated on methods, tools, and electrical rules.
Electrical Maintenance
Maintenance is vital for an electrical system or its components. This service helps you enjoy greater value for your initial installation investment. Our seasoned electricians are skilled in maintenance services to help you maximize use and value. We can organize a schedule and work with you each time.
Electric Vehicle Chargers
As a trending technological advancement, electrical cars become more popular by the day. Our electrical technicians provide EV charger installation services to help you enjoy your ride each day.
Check out all our services at a glance here.
30 Years and Beyond!
30 years in business and supported by the most loyal clients is a huge milestone. We look forward to celebrating many more with you on our list of lifetime customers. Thank you for believing in the Elcon Electric difference and allowing us to prove it to you consistently. Cheers!