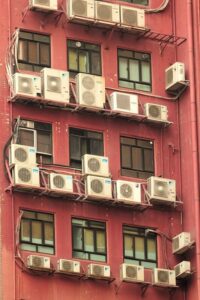 Many people worry about why their lights flicker when they turn on their AC unit. This article will allay your fears, and share possible reasons why your light flickers when you turn on your AC unit, and what you can do.
4 Reasons Why Your Light Flicker When Your AC Unit Turns On?
Start-Up Surge
First, it is normal for your light to flicker for 3-5 seconds immediately when you turn on your air conditioner because the power current surges the electricity as it draws in power to work. Hence, this may cause the light to flicker and affect other things turned on before switching on the AC. Next time, just relax when your electricity flickers for a few seconds when you turn on your AC.
Faulty AC Capacitor

The AC capacitor stores electricity, and gives it to the AC motors when you turn it on to compensate for the huge start-up surge. However, if the AC Capacitor is faulty, then the light dims longer than expected and it can affect the AC motors in the long run. Also, if you notice a clicking sound in your AC as the light flickers this may indicate a mechanical problem that should be looked into immediately. Ignoring this sign may cause more damage so we advise you to call us at Elcon Electric to inspect your AC.

Faulty Wiring
Does your light blackout out the entire time your AC is on? Does your light continue to flicker, dim or even darken when you turn on your AC? This may be because there is faulty wiring. There may be shorts, loose or damaged wires that may be affecting the AC and it's dangerous to leave it unattended. If you have these signs please quickly reach out to Elcon Electric to inspect and repair them.
Insufficient Wiring

Another reason which is closely related to the earlier mentioned point is insufficient wiring. The wiring may not be damaged, but it is not enough to handle the AC power intake. This may be a result of using an old wiring system in an old house or having as many heavy-duty appliances while not having a circuit breaker that can effectively handle the power surge. There's also the issue of installing your AC yourself or by an inexperienced electrician. It is advisable to get a separate circuit breaker for your AC and heavy-duty appliances if the issue is insufficient wiring.
We understand you may be hesitant to call an electrician however if the light flicker dims for a noticeably extended time or you notice any of the above then it is advised you reach out to a professional to check what is wrong. Leaving an electrical issue unattended can cause more damage and increase repair expenses.
You can reach out to us at Elcon Electric for any of your electrical needs. With our team of experienced electricians, you are guaranteed quality services.