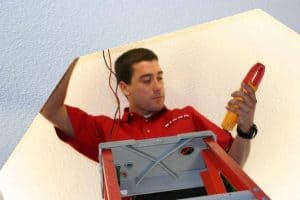 The way it goes, most homeowners only call an electrician when they need one for emergencies. Finding a skilled and professional electrician shouldn't be rushed which is why you should build a business relationship with a technician early enough.
You should start by hiring the electrician for home inspections or minor repairs before a major emergency happens. This way you will be sure they will be available for your service and know the kind of service to expect.
Here's our guide to help you search for an electrician near you.
Who is an electrician and what do they do
An electrician is someone with proper education, training, and experience in working with electrical components.  They help to install, repair, and maintain the electrical components that keep homes, businesses, or buildings running smoothly. They provide vital services like wiring and serve either commercial or residential customers or both. Their tools are diverse and include bits, screwdrivers, saws, drills, conduit benders, and more. When hiring or searching for an electrician near you, you want to go for someone certified and familiar with current electrical codes and standard.
What can I hire an electrician for?
You can hire an electrician for any forms of electrical works. These services include home remodeling electrical installations, outlet and lighting installation, circuit breakers upgrade, and much more. To have a more fruitful search, it's important to understand your needs or possible problems. Research costs and prepare questions that the electrician might have to clarify.
What is the cost of hiring an electrician?
The cost of hiring an electrician varies across technicians, companies, the service needed, and many other factors. Although some electricians can have similar charges based on the scope of your project. If you live in an area with a high cost of living, it's important to note that this also translates to more expensive rates for electricians.
Hourly rates might cost more for the first hour and less after that.
Where can I search?
A Google search for 'electricians near me' is a good place to start. Ask friends, neighbors, and relatives for recommendations. These sources can help you get a list. Work to narrow it down based on the electricians' reputation, reviews, expertise, and more.
What questions should I ask?
When you've contacted the electrician, ask questions to be sure you've found the right person. The questions should include;
Ask who will work on your project as most electricians operate under a company
Is the electrician updated on recent standards and codes?
Would he need to pull permits for your task?
Ask for a warranty to avoid wasting funds on the same service
License
Specialization
Elcon Electric
Elcon Electric is a professional and reputable electrical company near you. We work with only the best electrical technicians and take regular training for updates seriously. Our service is often described as remarkable and we have taken special care to ensure a customer-centric approach. Contact us at Elcon Electric today.