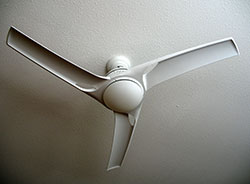 It is time to start thinking about how you are going to be the summer heat this year. Sitting outside in the evenings and enjoying the great outdoors is one of the perks to living in Florida. Unfortunately, those evenings and afternoons on the back patio can be ruined by muggy and extremely warm temperatures. When there is no breeze, it can be brutal. However, you can generate your own cool breeze by having an outdoor ceiling fan installed by an electrician in West Palm Beach. Elcon Electric has a professional staff of electricians ready to help you get ready for another hot summer.
An outdoor ceiling fan is an excellent addition to any patio or deck. The cool breeze generated by the fan will make it much more comfortable for you to enjoy the outdoors. The gentle breeze not only feels good blowing across your skin, but it also helps to reduce the number of flying insects that tend to plague those outdoor gatherings. The fans are set up a lot like indoor ceiling fans and can be controlled via remote or with a pull string.
You will have the option to choose from 3 main outdoor fan types. The type of fan you choose will depend on where you live in proximity to the ocean and the corrosive salty sea air. It will also depend on whether your patio or deck is covered or if the fan will be exposed. Yes, you can have your fan exposed to the elements if you choose the right one. A fan that has the electrical components completely sealed off to protect them is important if it will be directly exposed to the rain. Once you have picked the perfect fan for you, call your West Palm Beach electrician and schedule your installation. The team at Elcon Electric will be happy to help you get your outdoor seating area ready for the summer.