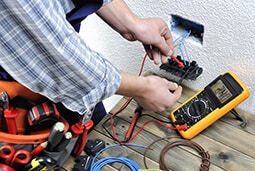 Your new Miami home can have you excited. It is a significant investment that has the potential to increase in value in a thriving location like Miami, but best of all, a new home means you get to do things your way from scratch. You call the shots on what you would like installed.
Electrical wiring has grown from what it used to be to a system that can offer comfort and convenience to homeowners.
Hence, when it comes to electrical wiring for your new home in Miami, you would greatly benefit from considering some creative and smart home ideas.
Consider a bed switch control to control all the lighting in your bedroom. Have the switches as close to you as possible in the bedroom.
Get more than one or two electrical outlets in every room. They come in handy on most days.
Consider having motion-activated lights, especially if you have family members that forget to turn the lights off in a room.
Add wiring for ceiling fans regardless of if you need them at the moment or not. Ceiling fans are a staple that eventually becomes essential in every home. Make incorporating them into your home easier with the wiring.
Consider home automation and decide where to place your control panels. Times are changing fast and homes are becoming smarter by the day. Discuss with your electrician on where a good spot for the home automation control panels might be.
If you don't have the budget for it yet but intend to add solar panels, home theatre, outdoor kitchen, a finished basement, and/or other similar features to your home, ask the electrician to run the wiring for these areas now so it's easier –and cheaper – to incorporate later.
Have outlets in all the right places, including inconspicuously under upper kitchen cabinets. It's ugly when outlets litter your walls, but with the right electrician, you can find creative ways to install them as needed.
Install pre-wiring for outdoor electrical needs such as holiday lights, outdoor equipment, outdoor theatre, and so on. Don't forget weatherproof outlets.
Remember to decide where televisions will be mounted and your need for speakers now or in the future. The wiring is usually done behind the walls.
Would you like towel warmers, heated towel racks in the bathroom, or radiant heated floors?
Don't leave out the wiring for your security system for your Miami home. This includes smartphone-controlled security, cameras, alarm, keypad entry options, and more.
Ask your electrician about a master switch for lighting in various parts of the home.
Despite this exhaustive list, wiring your home for the future is quite easy with the right electrician. Be sure to sit down with your family members to hear their suggestions. Work with a budget regardless to avoid overspending. Also, get familiar with terms and an overall idea of electrical wiring to help you be better informed on what is right for your new home in Miami. Once you're ready, give Elcon Electric a call to help make your dreams come true!