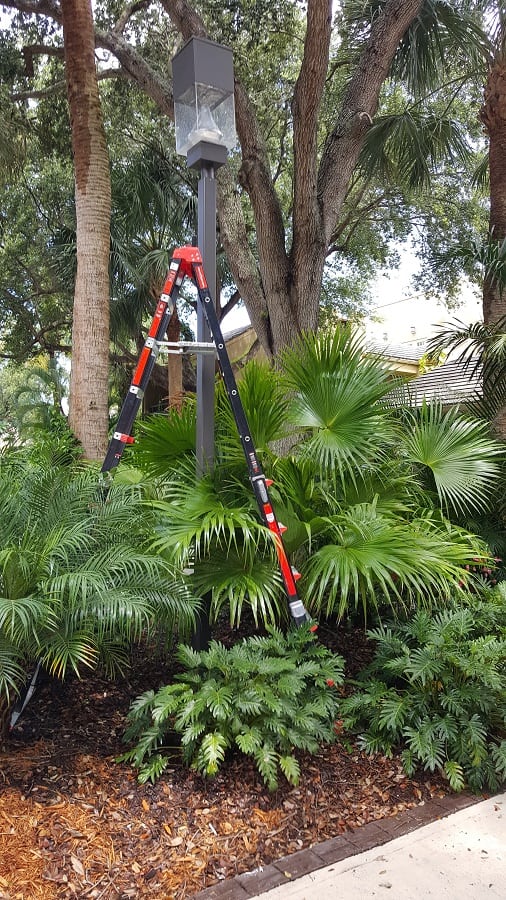 At Elcon Electric, we know the importance of keeping your parking lots well lit. If one of your light poles need a repair or a very high light bulb has gone out, give us a call and we will send out a crew with a bucket truck to help shed some light on your issue.
When Lands End in Boca Raton had an issue with a light pole and needed a repair, Elcon Electric dispatched a crew to fix it quickly. Fortunately a normal step ladder did the job!
No job is too big or too small for the team at Elcon Electric. From the changing of light bulbs to faulty capacitors, we can do it all. We even offer a lighting surveillance program at no charge various businesses and property management companies.
Night Owl Program
Let us worry about the security of your property while you're sleeping. Our Night Owl team will be dispatched to your site periodically to check your parking lot and exterior lighting to make sure the lights are coming on as programed and working properly.
We specialize in LED parking lot lights as well as exterior lighting maintenance work including:
Light pole repair – we can reach up to 40′
Replace and inspect lamps
Replace and repair ballast
Adjustments of time clicks, as well as programing and repair
Replace and replace fixtures or lens
24/7 Emergency Services
Note: Our Night Owl Program is offered to property managers, HOAs, car dealerships, office buildings, retail and restaurants, industrial complexes, and facilities managers. We are not able to service public or utility-owner light poles.
If you have any questions regarding our electrical services, please don't hesitate to contact us!
Contact Us