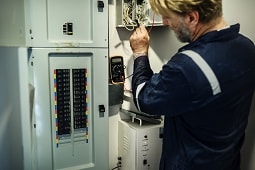 Everyone would love the best service for their needs. However, despite how much you wish for it, the sad reality is you can choose the wrong service provider and end up with even bigger problems.
Choosing the wrong service provider to paint your home differs from hiring someone to fix your electrical troubles. Any mistakes or improper connections can put lives and property in danger.
So what's the way out? A top-rated local electrician is not impossible to find. You only need to use the right steps.
Start by looking up the electricians or electrical companies in your area. Ask around and get a few names. Perform a Google search and gather a few options.
Know what top-rated means
A top-rated service means a service of the highest regard or the most successful of its kind. This, in turn, means you are not just looking for any referral or Google pick, you want the best to ensure a flawless service that saves you time, money, and stress in the long run.  From your options, you can look at very specific features to help you narrow down your list to the top-rated picks.
You can find reviews on the service of each electrical company on Google, the company's website, directories or platforms like Angie's List, HomeAdvisor, Yelp, and so on. Read the reviews to get a sense of the electrician's service and values. Read both positive and negative reviews. This step will help you narrow down your list to contractors or technicians that seem honest and experienced.
Can they do what you want?
With your remaining options, you should find out if they offer the service you need. Not all electricians are the same. Some work on residential buildings, others work on commercial buildings and some work on both. Take a look at the service they offer or contact the companies to clarify.
Check qualifications and equipment
An experienced, licensed, and insured electrician is what you want and need. Check that the electricians are qualified for the job. A qualified electrician should be fully equipped with the tools needed to carry out your task.  You shouldn't have to rush to the store for anything with a professional electrician around.
Customer service and transparency
Not all electrical technicians or companies take customer service as seriously as they should. You need a service that is customer-oriented and ready to offer you value at a reasonable price. You can reach out to past clients of your best options to ask about their experience. Ask if they were satisfied and if they would hire the technicians again.
With these steps, you can find a top-rated local electrician. Once you've done this, keep their contact handy and stick to the service if it turns out as great as expected.
Learn more about Elcon Electric and how we've served our local South Florida areas for years. Take advantage of our top-rated service today.