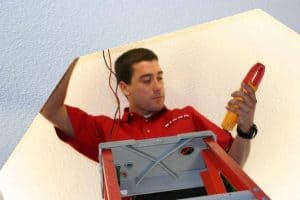 Electrical problems can creep up on you faster than you know, and when they do, you will need a highly rated Fort Lauderdale electrician.
Highly rated electricians know everything. They can rescue you from electrical trouble when you need them.
You should call an electrician in Fort Lauderdale when;
You need a breaker panel replaced
Not every electrician can or should replace a breaker panel. Upgrading, repairing or replacing your breaker panels require licensed and experienced electricians in Fort Lauderdale. This is vital because your breaker panel can make or break electrical efficiency and safety in your home. Call Elcon Electric, your highly-rated Fort Lauderdale electricians to help.
In circuit or outlet troubles
Every appliance in your home needs a dedicated circuit to share power. When it comes to these circuits, you can't even consider DIY. Circuits and outlets can be a great source or channel of electrical power in the home, and they can also be dangerous in the wrong situations. A highly-rated Fort Lauderdale electricians know his circuits and outlets and can install, repair, replace, or maintain them as needed.
Installing lighting and security
A highly rated electrician also has an eye for aesthetics. They can help install both indoor and outdoor lighting that specifically adds beauty to your space. At the same time, the electrician knows that safety is important and ensures your lighting can contribute to your home security. When you need to equally install other home security systems, a highly rated electrician in Fort Lauderdale can come through for you.
How to find highly rated electricians
Look out for their certifications
A highly rated electrician is someone who takes their job seriously and so will possess all the necessary certifications. These include insurance and license. Valid certifications show the authenticity and capability of an electrician.
Review sites like Yelp, Angie's List, HomeAdvisor, and even Google can provide information on an electrician. Check reviews to see what people say about this electrician. You can tell a reputable electrician from reviews.
A highly-rated Fort Lauderdale electrician has references or past jobs you can see to confirm their expertise. They are experienced and have been in the field for a long time.
See if they are available 24/7
Electrical problems can creep up on you. Hence, highly rated electricians know to be available when you need them. They are reliable with their service.
Elcon Electric in Fort Lauderdale
Elcon Electric has served in the Fort Lauderdale area for years. We are reputable electricians with experience and availability to ensure you can enjoy electrical power safely and smoothly. Call us today.