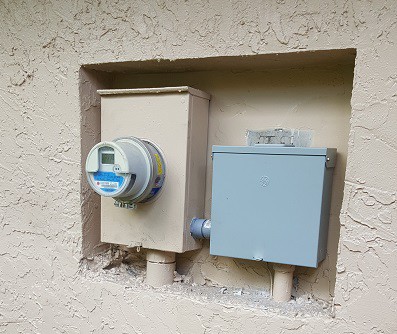 When too much electricity flows through a circuit in your electrical panel, it will trip causing all electricity to stop. This is a safety feature that keeps the wiring from overloading which might result in an electrical shock or a fire. The electrical panel's job is to keep the electricity regulated in order to keep your home and family safe from harm.
As with everything, electrical panels age. When it gets older, it can become outdated and start to deteriorate. With all the new technology available, it might have a difficult time keeping up with your home's electrical needs. New televisions and computers may be more energy efficient than those in the past but we are using more and more devices in our homes that more energy is actually needed.
Old panels can malfunction. You will notice the beginning of an electrical panels end when lights start to flicker or appliances need to be turned off in order to use a different one. You might feel shocks or smell a burning smell. If you notice any of these signs, it's time to call an electrician to come out and assess your situation. A professional electrical will be able to give you the advice you need when it comes time to upgrade your electrical panel.
The electricians at Elcon Electric were dispatched to a home in South Florida to upgrade one of our customer's electrical panel. With the panel upgrade, our client will be able to feel safe in her home knowing she has enough electricity available.
Contact Us