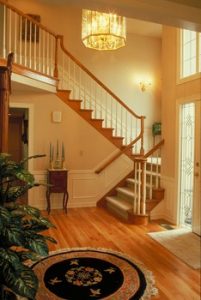 We all get that itch to change things up from time to time. The same boring wardrobe, food in the pantry and our homes in general can feel very outdated after we see the same things day in and day out. We crave change on our terms. One of the great things about home ownership is the ability to change the home to suit your evolving style and needs. One year pink may be your favorite color and the next you may be in love with yellow. Painting walls, throwing down a new rug and changing the throw pillows are some of the ways we can change things up. When you feel that itch again, consider changing a light fixture in a room to give you that new look you are craving. Your electrician in Fort Lauderdale, like those at Elcon Electric, can take care of the update quick and easily for you.
A new light fixture can make a huge difference. Adding a chandelier to an entryway is one way to create a dramatic entrance. This is a job for an electrician. Fort Lauderdale homeowners can go big, bold and dramatic or keep it small and cute, but still an effective statement piece. Another lighting option that can really be a big deal is track lighting with LEDs in the kitchen. Several small lights that pack a lot of power are functional and attractive.
If your living room is looking a little blah, add a few recessed lights says a Fort Lauderdale electrician. It will free up space in the room because you won't need lamps and it can create a very modern look. The possibilities are endless with the extensive styles and designs to choose from. Take some time, do some browsing and then call Elcon Electric to schedule your lighting upgrade.