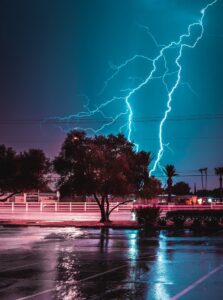 A surge protector protects your house and electrical system from a power surge that may damage home appliances. Surge protection in Miami is important because power surges occur unexpectedly, and may be because of lightning strikes, sending an enormous amount of electricity through your house wiring. You don't want to spend huge amounts replacing appliances when it could have been prevented with surge protection.
Miami has relatively minor surges, but they can be outrageous sometimes if there are downed power lines or sudden storms. So, it is important to have a protection system in place for your appliances.
Types of Surge Protectors
There are two kinds of surge protectors, they include:
Strip/Outlet Surge Protector

This kind of surge protector allows you to plug in the appliances or electrical items you want to keep protected. This means that it can only protect whatever has been plugged into the surge-protected strip.

Building/Whole Home Surge Protector

This protects the entire home or business building, along with everything in it. Here, you don't have to plug in only a few appliances or electrical items.
Why is Having Surge Protection in Miami Important?
To Protect your Electrical System

Electricity can be potentially hazardous if precautions are not taken. So, it is important to protect your electrical system from a power surge. You will need a whole home surge protector to pull it off because the strip protector will only protect whatever is plugged in, not your entire electrical system. If a power outage occurs or lightning strikes, without a surge protector, your electrical system gets damaged, and may even lead to more disastrous hazards. A building surge protector will absorb the electricity surge instead, keeping your home's electrical system intact.

Safety

It is downright risky to live in a home with your family or with kids, without surge protection. Power surges or disruptions, especially major ones, could easily lead to electrical fires. Any voltage wave could irreparably ruin your home and cause damage. In the end, you might have to pay thousands of dollars to fix what has been ruined.

To Protect Your Electrical Appliances

Electrical items are delicate and vulnerable to damage, not to mention expensive. A surge protector absorbs sudden power surges so that they do not travel through to the electrical items that you have plugged in, and cause damage. Here, a strip surge protector can do the job perfectly.

Improved Home Value

Having a surge protector installed in your home dramatically improves its value; this is important if you ever have plans of putting your home up for sale. Potential home buyers will find your home much more valuable.
It is easier to install strip surge protectors, but if you need to install any kind of surge protector and you need an electrician in Miami, Elcon Electric is the answer. You will only get a licensed electrician from us, who will also provide professional advice concerning your choice of a surge protector. Contact us now and book an appointment.