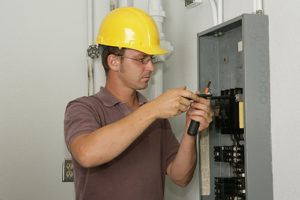 Now is a great time to make your dreams of owning a custom built home come true. Living in southern Florida is something many people dream about their entire lives. For some, it is where they plan on living out the rest of their lives and for others, the home they have built today will serve as a second home when they want to escape the harsh cold of most other regions. A Fort Lauderdale electrician can certainly understand the draw of the gorgeous weather and wants to help you make your home perfect for your needs. The team at Elcon Electric is here to serve you.
The process of home construction can be lengthy. Every stage of the construction requires a new set of professionals to ply their trade. Before you ever sign contracts or start the process, you will want to get bids for the work. When it comes time to choose the right electrician in Fort Lauderdale, you will want to find one that offers quality and value. Sticking to your schedule of completion is also very important. You don't want to hear the dreaded, "two more weeks." You want to know your project is coming along as scheduled and delays are always communicated.
Before you make a final decision, check around. Talk with your contractor about the best team and then interview the electrician. Fort Lauderdale is a large city with plenty of contractors to choose from, but a new home is an investment that you only want to leave to the best of the best. You want to deal with a team that will accept your input and strive to make your dream home a reality. This is something you have been working towards and you deserve to get exactly what you want. Give Elcon Electric a call today and learn more about how we can help you fulfill the electrical wiring installation in your new home construction.