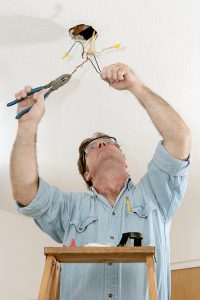 A Boca Raton electrical contractor and an electrician are similar terms but surprisingly they do not mean the same thing. Most people do not recognize this difference and proceed to hire any of the two.
An electrician is an individual who provides electrical services. He/she is a master electrician, dedicated to offering a professional service. The electrician can be hired by an electrical contractor or become one himself to hire others. An electrical contractor, on the other hand, describes a business person or firm that offers specialized services. Their work involves installation, design, and maintenance of electrical systems. Electrical contractors are classified based on their services. These categories are discussed below.
Outside or line contractors
Outside or line electrical contractors work on the distribution line and high-voltage power transmission. They ensure that the electricity generated at power plants are carried safely through high-voltage lines before distribution to substations, buildings, or homes.
Integrated Building System (IBS) Electrical Contractors
These electrical contractors work on low-voltage installations like wireless networks, backup power, climate control, security systems, and telecommunication.
Inside electrical contractors
As the name suggests inside electrical contractors work on electrical services within the boundaries of your home or property. These include tasks such as outdoor lighting, cabling design, installation, and maintenance of residential, commercial, and institutional buildings.
Electrical contractors usually take on large projects. Hence, for a single construction project, more than one electrician might be sent. The team would have a supervisor and even an estimator to ensure everything is going smoothly and according to budget. This is beneficial because they get more done in little time.
Questions to ask when choosing a Boca Raton electrical contractor.
If you have decided that your electrical service requires a contractor then you must use the right steps to choose one.
Define the task
What are the details of the project you require? Is it a renovation task or repairs and installation? Consider how much time it would take and any requirements that need to be put in place before the project starts. Knowing this helps you to narrow down your search for the contractor. There are several electrical contractors in Boca Raton and selecting an honest one could be tough.
Ask for credibility
An electrical contractor must have a license or documentation to prove their credibility before handling your project. You can ask for references of previous satisfied clients to check and confirm the contractor's competence.
Cost matters
Electrical contractors charge using an estimated time and material rate. They can give you a complete verbal quote, proposal, or simply charge by the hour for complicated projects. Cost for the same job may vary between contractors.
Vet the proposal and its alignment with your needs
When the electrical contractor presents the proposal for the project you have to look it over and determine if it aligns with what you need. Are your services clearly mapped out? Are there any missing quotes or details? Check this information for accuracy before agreeing and investing your funds with the contractor.