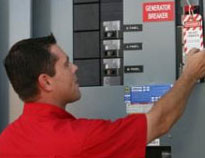 About Service Changes and Upgrades
Are you wondering if you need to upgrade your electrical service? This is a common question and is not always a simple one to answer.
All structures have limited electrical capacity, due to the nature of the electrical panel, the interface between the home system and the municipal power grid. When a service is upgraded or changed, that capacity is increased, allowing the potential for more circuits to be installed and used.
Many homes and businesses still have their original 100 amp service, so when it comes time to remodel or add an addition, often there is little or no room in the distribution panel to install the required additional circuits. The amount of electricity available to use is limited by the capacity of your main breaker.
So when major appliances that need electrical power are added, or the size of the building is increased, very often the electrical capacity of your service needs to be increased as well.
In addition, many electrical services have been hanging on the side of buildings for a long time, subject to deterioration caused by the environment and weather. Some have become damp and corroded; some have been overloaded over the years and due to overheating, joints and connections have become loose. Some services still rely on fuses, which, because of their age, are corroded, overstuffed and overheated. These conditions are dangerous and good reasons to invest in changing your service.
If you have an older home, a service that hasn't been upgraded or maintained in some time, or are contemplating increasing the demands on your service, let Elcon Electric help you explore the options for upgrading your service. We can give you a free consultation and no obligation quote right away, so you know exactly what it will cost you to have a capable modern service that meets all of your demands.
In short, there is no better choice for all of your Service Changes and Upgrades needs than Elcon Electric.
Service Changes and Upgrades FAQs
A service change is when an electrical panel needs to be upgraded to handle the load you're trying to give it. It is required to increase the amount of existing electrical service.
Service Changes and Upgrades Reviews
"My husband and I have been in the service business our entire lives and it is refreshing to encounter what has been a dwindling attribute in that arena for many years. You can rest assured that I will always call your company whenever I am in need of an electrician." – Pearl Silverstein
Tel: (800) 446-8915
Fax: (954) 867-7139
Monday - Friday
8 am to 5 pm
Your South Florida Electrician Since 1989
Licensed Electrical Contractor, License: #EC0001331

Service Changes and Upgrades Coupons