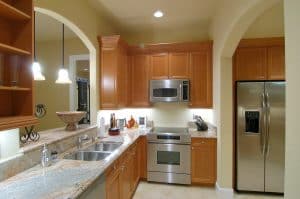 When people think of a remodel, the first thoughts are usually room additions, new paint, new appliances, etc. But remodels can be anything from changing the color of a room to adding a whole new area of a home.
Let's think of a kitchen remodel… a new centerpiece addition for more counter space, a nice new window by the sink for a view when doing the dishes, all new stainless steel appliances… It sounds great! What you might not think about when remodeling your kitchen is new electrical.
When performing a kitchen remodel, it's the perfect time to upgrade the electrical in your kitchen. You can improve the appearance of your kitchen as well as increase the value when you upgrade your kitchen's electrical – especially if you have an older home.
So, what can an electrician help with during a kitchen remodel?
New Light Fixtures
When remodeling your kitchen, you want to get the most bang for your buck. If you're adding any new countertops or want to shine a light in a place that needs it, consider adding new light fixtures. During a remodel, you can truly see where you need light the most. Consult with your electrician about what light fixtures are the best to use where.
Adding Electrical Circuits
Sometimes a kitchen remodel means new electrical appliances. With new appliances, you may need to add some electrical outlets to your kitchen. An electrician can work with you to add power where you need it most.
Different appliances require different outlets. Outlets near water need to be GFCIs to reduce the risk of electrical shock. A refrigerator outlet can be different from a dishwasher outlet, so be sure to talk everything over with your electrician
Upgrading Electrical Panel
When you add new electrical appliances to your home, the load on your electrical panel grows. If you are remodeling your home and are needing more power, an electrician can help with a panel upgrade.
Regardless of any remodels you are doing in your home, it's best to consult with an electrician to help with the changes. They will walk through your project with you and help you understand what needs to go where and why.
Whether your remodeling project is limited to changing out a light fixture or gutting the room to start from scratch, Elcon Electric's professional electricians can make sure that you get the most for your investment dollars. Our electricians are accustomed to working with contractors on renovation projects and working with you to get the exact lighting and kitchen wiring you want and need in your remodel. Contact us today so we can help you propel your home into the future with a modern kitchen remodel.