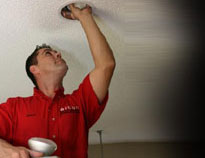 About Lighting Retrofits
Reduce your energy costs! Your energy savings can pay for your lighting retrofit project. Let our lighting experts prove how you can receive a 30% to 60% "Return on Investment" – with paybacks possible in less than two years!
Easy Financing Available – Lighting retrofit projects can be installed with little or no money down and often achieve immediate positive cash flow.
Elcon Electric has partnered with several lighting manufacturers to offer the most cost-effective, efficient technology available in today's market. Call to schedule an energy analysis to start saving money and make the world a "greener" place for all of us.
| | |
| --- | --- |
| BEFORE (Metal Halide-150 watts) | AFTER (2 lamp T8 fluorescent-58 watts) |
Contact
Elcon Electric

today to schedule your complimentary Lighting Energy Analysis
Lighting Retrofits FAQs
What is a lighting retrofit?
Why should I consider retrofitting?
How does retrofit lighting reduce lighting?
A lighting retrofit is the practice of replacing components in the system with counterparts that make it use energy more efficiently. A lighting upgrade is any strategy that reduces the system's energy use. Energy savings are realized over time that can be significant enough to not only pay for the new equipment, but produce a return on investment.
Why should I consider retrofitting?
With lighting accounting for up to 40% of a building's total electrical cost, it's easy to justify and afford a lighting retrofit project. The following are benefits of retrofitting your current lighting systems:
Significantly reduce energy use
Increase worker productivity
HVAC savings
Improve quality control
Increase light levels
Reduce liability
Enhance light quality
Environmental impact
Reduce maintenance costs
Improve Safety
How does retrofit lighting reduce lighting?
To reduce energy consumption, we can either reduce the wattage or reduce the hours of operation. Input wattage can be reduced by replacing lamps and ballasts with more energy-efficient counterparts or outright removal of lamps and ballasts. The hours of operation can be reduced using sophisticated controls and other methods.
Lighting Retrofits Reviews
"Jared from Elcon showed up on time and walked through the house with me, listening to what had to be done and explained clearly how it would be handled. He was professional and performed the services requested with no further guidance or input from us. This is an older house being renovated and I plan to use them again next month as the project continues. Also the office staff is very responsive and friendly." – Joseph Citrano
Tel: (800) 446-8915
Fax: (954) 867-7139
Monday - Friday
8 am to 5 pm
Your South Florida Electrician Since 1989
Licensed Electrical Contractor, License: #EC0001331

Lighting Retrofits Coupons