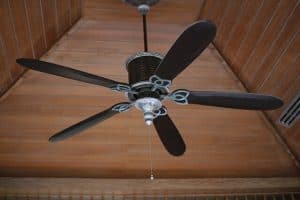 The weather is nice and comfortable right now, but it won't be long before the heat and humidity rolls in. If you are looking forward to another hot summer, but not looking forward to the discomfort the heat brings with it, you will want to get on the phone and call your Fort Lauderdale electrician now. The team at Elcon Electric is ready to help you prepare to beat the heat with a lovely ceiling fan in your living room, bedroom and wherever else you want to stay cool this summer.
Ceiling fans on the market today are anything but boring. You can find some exquisite fans that are more like statement pieces in a room rather than a useful tool in the home. You can choose anything that appeals to you, as long as the fan is the appropriate size for the room explains an electrician in Fort Lauderdale. If you have an overly large space, you can certainly have more than one fan installed. Most fans are equipped with lights, which means you don't have to worry about fitting a bunch of stuff on your ceiling.
There are extension bars that will be used for rooms with vaulted or cathedral ceilings along with handy remote controls. The fans are gorgeous and you will appreciate the cool breeze this summer. The high humidity tends to make a room feel stuffy and hotter than it is actually is says an electrician. Fort Lauderdale homeowners can eliminate that cloying feeling by having fans running that move the air and leave it feeling fresher. It is far easier to relax and unwind in a comfortable room than one that is too hot with no fresh air moving. Give Elcon Electric a call today and schedule your new ceiling fan installation before summer weather arrives.