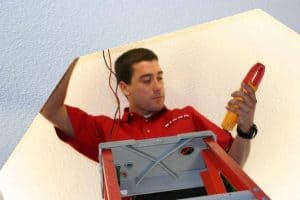 Most homeowners have full days with several activities on their schedule. Hence, it can be difficult to fit in finding a good electrician in Boynton Beach with everything else you have to do.
Boynton Beach is popular and loved for its perfect weather, delicious produce, and beaches. With such a thriving city, you can expect to find lots of local experts for your electrical problems. Some of these experts provide specialized services. For example, some electrical technicians may work on roads and highways, others may work on commercial buildings, malls, and homes alike, and so on.
While it's easy to find just any electrician in Boynton Beach, it's not easy to find an honest and capable pro. A lot of the so-called experts may lack proper license, experience, and good character. Not to mention, you might easily get ripped off if you hire wrong. Your electrical system is important to the efficient and safety of your home and this makes it worth taking the time to find the right service. Here are the steps to ensure you get a good electrician in Boynton Beach;
Get referrals from everywhere
When it comes to getting referrals, there are several sources you can look towards. Referrals for electrical services are essential because they point you in the right direction generally. Get referrals from your family, friends, neighbors, colleagues, and even social media like Facebook. Ask about the projects the electricians worked on for your friends, family, neighbors, or colleagues. Ask how long it took and if they were happy with the entire service.
Check for reviews
Platforms like Angie's List and HomeAdvisor are a good source of reputable electrical services. Check out the reviews of these companies to get a sense of their reputation and services. This can help you narrow down your list.
Get a quote
Be sure to reach out to your top choices and describe your needs to them. Most companies offer a good estimate on the spot, others need to come over to determine the quote. Whichever way, get quotes from more than 2 electricians and compare them. Watch out for those tricky experts that refuse to give a quote and don't choose based on the cheapest quote. Some technicians may accept the job initially at a certain amount, but rope you into outrageous extra charges later.
Area of expertise
As explained earlier, electricians do not all have the same specializations. Electrical technicians can be categorized according to where they work or have expertise in. The main categories are industrial/commercial, residential, and outdoor electricians who work on electrical lines to power plants. Choose the technician fit for your needs.
Ask for license, insurance, and bonding
As you make your final choice, be sure to ask if the electrician is insured, bonded, and licensed. Ask to see the documents to save yourself from unexpected headaches.
It also falls on you to properly and clearly explain your electrical needs or issues as this contributes to getting a job well done.