Congrats on purchasing (or thinking about purchasing) a Nissan Leaf! This vehicle is probably one of the best selling all electric vehicles out there. Now, how are you going to charge it once you get it home?
That's where Elcon Electric comes in. Our electricians can help with a Nissan Leaf charger installation! Feel free to read on or contact us for more information.
---
Why Install a Charger at Home for your Nissan Leaf?
It's almost at that point when owning an electric vehicle makes you a cool driver. EVs are more popular than ever but what happens when you don't have the budget for that super sleek Tesla?
You choose the next best thing – a Nissan Leaf.
Nissan Leaf is an impressive car covering all the basics. It offers a comfortable driving experience, standard safety technology, sufficient driving range, and an infotainment system anyone could operate.
Nissan released the Leaf in 2010 and since then more that 450,000 Leafs have sold worldwide. With this huge number, there has to be a more convenient way of charging your car than going to a public charging station.
When you install a charger at home, you are purchasing a piece of mind. A home charger will make your life easier by helping you save money and time. No more late night drives to the mall to charge your car. Just plug it in at night and have a charge in the morning.
---
Understanding Nissan Leaf Charging Station Options
For homeowners, there are basically two charging options you have: Level 1 and Level 2. Here we will discuss these options in more detail.
Level 1 Charger for Nissan Leaf: Standard Outlet

A Level 1 charging station is probably the most simple to use. It utilizes any standard household outlet. Usually there are no added costs for this. There is, however, one big downside here: it's extremely slow.
With every Nissan Leaf, there comes a portable charger. This charger can plug directly into any standard 120-volt outlet as mentioned above. It takes about 35 hours for the battery to become fully charged, adding only about 3 to 4 miles per hour charged.
This option can definitely be used but is not recommended as it takes a long time and there is a better option.
Level 2 Charger for Nissan Leaf: ESVE or NEMA 14-50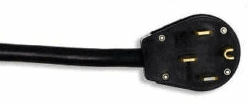 A Level 2 EVSE, or Electric Vehicle Supply Equipment, is the better option. When you install EVSE, you can easily charge your car while you sleep. The Leaf uses a J1772 connection which can be found in all US-based home and public chargers that provide 240-volt power. Knowing this means you can increase your charging mileage to 22 miles per hour charged.
Here's the only downside — you should have a professional electrician come out to install this. If you consider how much time you'll be saving with a faster charge, this negates this downside. Plus, depending on your set up, this may not cost too much to be installed. Reach out to our technicians for a quote on this work.
---
How much does it cost to charge a Nissan Leaf?
When you purchase an electric vehicle you can be sure you are saving on the day-to-day costs as they use electricity as their fuel. If you're trying to see how much a full charge will cost every night, it is going to depend on where you live and what utility company you use as Florida electricity prices vary from city to city.
More Information on the Nissan Leaf
Since been introduced in 2010, the Nissan Leaf has been updated over the years. We will dive into some specifications and features of this EV.
The appeal of an electric vehicle 
The Nissan Leaf doesn't fall short in the following electric driving specifications:
100% electric
No oil changes, gas, or tailpipe emissions.
Quiet cabin.
Potential tax credits, rebates, and incentives.
As far as driving range, the Leaf's models with the 40-kWh lithium-ion battery get up to 149 miles per charge. While the models with the 62-kWh lithium-ion battery can deliver on either 215 miles or 226 miles depending on the model.
In terms of power, Nissan Leaf's electric motor and 40-kWh lithium-ion battery produce 147 horsepower. While the stronger 62-kWh lithium-ion battery produces up to 214 horsepower.
Safety with the Leaf 
How safe is the Nissan Leaf for driving? Well, it's safe to say the Leaf is a seamless vehicle that offers premium safety features. The 2021 Leaf currently holds the highest rating of Good in crash tests conducted by The Insurance Institute for Highway Safety.
The safety features include:
Adaptive cruise control
Driver attention alert
Rearview camera
Automatic emergency braking
Rear parking sensors
Forward collision warning
Blind Spot Warning
High Beam Assist
High Beam Assist
Anti-Lock Braking System
Charging your Nissan Leaf 
This is vital knowledge to acquire before investing in purchasing a Nissan Leaf. All Nissan Leafs come with a standard Level 1 charger that can connect to a 120volt outlet in the home.
As with most Level 1 chargers, charging is slow. You can also charge the Nissan Leaf with a public Level 2 charger for faster charging or DC Fast Charging Station.
A 240-volt wall outlet can also charge the Leaf quickly.
Charging time with the Nissan Leaf is as follows;
240-volt connection — Standard Leaf vehicle battery —full charge within 8 hours.
240-volt connection — Larger Leaf vehicle battery — full charge around 11.5 hours.
Public DC Fast Charging station — Standard Leaf vehicle battery — Up to 80% charge in 40 minutes.
Public DC Fast Charging station — Larger Leaf vehicle battery — Up to 80% charge in 45 – 60 minutes.
The Nissan Leaf's battery has a warranty of 10 years or 100,000 miles.
How much does the Nissan Leaf cost?
The cost of the 2021 Nissan Leaf starts at $31,620. It is below the average price for an EV. You can also get a federal tax credit of up to $7,500. In comparison, the starting price for a Tesla is up to $6000 more.
In conclusion, the Nissan Leaf is an impressive electric vehicle with an affordable price range.